Lovely Avi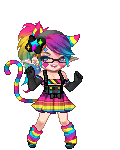 Last Login: 06/29/2016 11:44 pm
Registered: 07/26/2013
Gender: Female
Location: USA!
Birthday: 05/05
Occupation: Not a dang thing!
A little bit about myself
Hello there and welcome to my profile!
I'm Savannah but you call me Vaney for short.
Anyways, I love to RP and have for a few years now. I consider myself semi-lit because of my spelling skills etc...
I'm not taking pics or anything involving reality whatsoever!
I'm on here to get away from it all and take a break so please don't ask...
Anyway onto a more personal note, I'm bisexual and if it's so offending just... shoo... Because nobody needs a hater whatsoever including myself.
Love is love after all.

PS
Feel free to add me but please add a note or say something first because it's rather odd just for a random 'add friend' without saying something...
PPSS
Also I love art and color as a interest but I'm terrible at it unfortunately...
Just gotta keep at it I suppose and continue learning too!