Equipped List
Interest Tags
Favorite Movies/Anime
Favorite TV Shows
Favorite Reads
Favorite Music/Bands
Hobbies/Interests
Wish List
Forums
Posts per Day: 0.01
Total Posts: 24
Signature
its ok to be a little gay its ok to be a little retarded~
SaraPunkHeart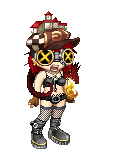 About
Hi Im friends with clockworklibgurl in real life and online.

In her story as Sarah I quarrel with Cassandra until they become friends on and off. I am her voice of reason but a bit uptight and too stern at times. This scares her away. I was worried of her relations with Alex, contacted the authorities, and generally broke them up. We are no longer friends in story but I'll be returning and things will change since George and I secretly got engaged despite his strange lecherous behavior. I'm unaware that he and Cassandra are alone together in Japan to save Alex.

My look is varied. I am a lot curvier than Cassandra and wear brighter clothing that shows off. I am bit dark in style but I'm too shy to be actually goth. If I do bad/dress bad it's based on what Cassandra wants. My hair is usually short and light brown but for fun I dye it red. My skin is not too pale but I'm caucasian. Later in the story I always dye my hair red and bob it. My style becomes a bit steam punk and I always wear yellowish colors at that point. After that I go for a Tank Girl look and get orange again.

My personality is goody-goody, shy, stern, and innocent. I tell on people a lot. But then I become a bit more boyish, needy, wife/motherly, but I also have more fun. I'm generally the same though.
Journal
Sara PunkHeart's Entry Haven