.saraht3hpixie.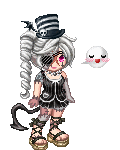 Last Login: 10/05/2016 8:53 am
Gender: Female
Location: Ozark, Missouri, USA
.about.
Hey, the name is Pixie. I enjoy flipping through catalogs and looking at stuff I cannot afford. Seriously, I do....XD Ok, I've been on Gaia since late 2005 but I don't remeber 05/ 06 since I wasn't really active then. However, I do remeber when Gaia was in it's hayday and didn't have all the crap/ inflation. Gaia personals...XD...creepy but funny.
.petz.
.wishes.