Samael Von Hellbond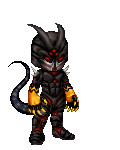 Last Login: 12/11/2014 12:51 pm
Registered: 07/08/2009
Gender: Male
Birthday: 10/05/1994
Equipped List
Interest Tags
Favorite Movies/Anime
Favorite TV Shows
Favorite Reads
Favorite Music/Bands
Hobbies/Interests
Wish List
About
My name is Joseph, I'm 19, and I love music. I'm mostly into metal, if you cant tell. But I also like country. I am a gamer, and I like to rp sometimes. I am currently single, though it really isnt a bad thing. My goal is to join the FBI after I graduate college. If you want to know more about me, just ask. i'll try to get pictures up of myself soon.
Journal
Stories, RPC's, Song Lyrics, etc.
The title is self explanatory.
Signature