Sakuya Rain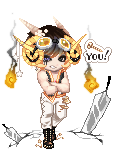 About
I love seeing cosplays, they're really awesome but I don't think I could ever cosplay, FightingDreamersPro makes great cosplay videos, they're really fun to watch.

And DC or Marvel? Both have their merits, I love Static Shock, Justice League and Young Justice, but Spiderman, Avengers and X-Men are also great!
Mark Hamill does a great job voicing The Joker!


I guess I'm more of a voice actor geek.
Did you know Maria Canals (plays Mrs.Russo on Wizards of Waverly Place) does the voice for Hawk Girl in Justice League and Justice League Unlimited?
The Royal Flush Gang are voiced by the same people who voice the Teen Titans.
Ten - Cyborg
Jack - Beast Boy
King - Robin
Queen - Raven
Ace - Starfire
Friends
Viewing 12 of 122 friends
Multimedia
Signature