About
Hello Gaia Online. My, time does fly around here. So many users and a lot of events happen on here. I do not usually add random people on here. I do come here everyday to see all the cute items I want to get for my avatar. I am a vendor/ hoarder since the beginning of this account was created. This is not first account on here, which was in Nov. 2006. I have such amazing friends on this site and makes me want to come back for another day.

My hobbies are drawing, reading, sewing, Lolita, BJD's (Dollfies), cosplaying, graphic design, and collecting things. I do really love avatar artwork and seeing everyone's style.

Want to know more about me, just PM me, but please do not beg for items. I feel that you should earn your items. Take care and have an awesome day!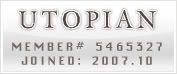 My Own Quilt Patch! Thank you, [Cindy]



Code:
[url=http://www.gaiaonline.com/profiles/?u=5465327][img]http://i93.photobucket.com/albums/l41/Lullaby-Bear/graphics/quilt/quilt1.jpg[/img][/url]
Friends
Viewing 12 of 330 friends
Multimedia