About
DO NOT put "Thanks for buying" in my comments!!
If you are planning to get me anything,
do not refer to the wishlist.
I cannot change the list, which has been bugged.
Most of those items I do not want
anymore or already have them.
Please refer to my quest thread, thanks.
Just me in this cruel world.
Hard working people always go unnoticed.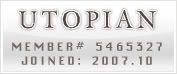 My Own Quilt Patch! Thank you, [Cindy]



Code:
[url=http://www.gaiaonline.com/profiles/?u=5465327][img]http://tinyurl.com/82wev9[/img][/url]
Friends
Viewing 12 of 318 friends