About
Name
: Sakura-chan
Occupation
: HIGH SCHOOL GRADUATE!!!!!! WHHHOOOO
Fav. Animes
: Death Note, Hell Girl, AIR, Elfen Lied, The Melancholy of Haruhi Suzumiya, Rozen Maiden, Da Capo,
Black Cat, Full Moon wo Sagashite, Moon Phase, Samurai 7, Negima, Spiral, Black Blood Brothers, Chrono Crusade, Naruto, DNAngel, Saiyuki, Yu Yu Hakusho, Tsubasa, Wolf's Rain, Ouran High School Host Club, Fullmetal Alchemist, Fruits Basket, Pretear, Angelic Layer, Zoids
and the list goes on....
People who i adore
: Excel27(gotta love the gay jacket...) wait my step-brother has one...AAAAAHHH. Mikanooki( little sister Mika-chan). blac winged angel (no i haven't taken my step-brother pic and put it on eBay...yet). Reiss_Wind ( thanks for sharing your thoughts..on paper...on the bus...yeah).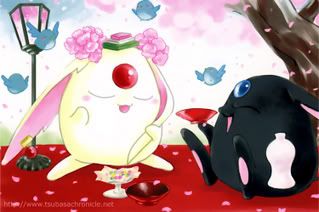 It's the Mokonas!!

Gotta Love Tsubasa!!
heart
Friends
Viewing 12 of 28 friends
Journal
Sakura's Journal with Random Crap
I am sooo bored!!! there is nothin' to do but watch TV and go on the computer thats about it. There is a third option...MURDER!!!!!! kidding...... or am i???
Multimedia
Signature