About
Well, I live in Oakland, CA. I really don't want to give out my name so I won't My favorite anime is Naruto.

Item List:
Aquatica
Aquatica
Aquatica
Celebrity Date
Elemental Hair
Estimated Total: 71,440 Gold
(Estimated with known item values on 17 April 2007)
Journal
Diary's, Anime Stories, and more!
This is a journal were I write anime stories anyone requests for me to write, diaries of me or other people if they want me to, and more. Maybe like drawings!
Sakura Hyuga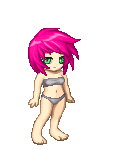 Last Login: 06/03/2007 12:35 am
Registered: 12/27/2006
Gender: Female
Equipped List
No items equipped.
Wish List