Sachie Whitby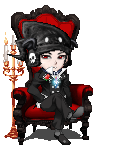 Details
---
Interests
Favorite Reads
Favorite Music/Bands
Hobbies/Interests
About
Sheard
. You can usually find me in the forums Lake Kindred, Word Games and sometimes the Gaia Community Discussion. I used to go into Mini Shops a lot but the forum isn't all that active anymore.
sweatdrop
Friends
Viewing 12 of 60 friends
Journal
Be Your True Mind
Multimedia
Signature
Sachie is a male vampire and doesn't sparkle, kktks.
If my avatar looks not quite matching, it's because I have mild color blindness.