About
O,, I'm a pretty easy going guy who is passionate about his writing, drawing, and pwning ppl in vid games.

I am desperately trying to become the greatest artist i can be, weather it be singing, drawing, writing, *shudder* pottery, and whatever else i feel like doing. And i hope you all enjoy my artistry, even though its on lined paper.
Ryuuta32594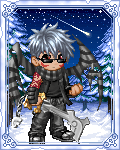 Last Login: 06/05/2016 4:33 pm
Registered: 12/26/2008
Gender: Male
Location: RIGHT BEHIND YOU...
Birthday: 03/25