About
I'm a major fan of Team 8 from the Naruto series, which consists of Inuzuka Kiba, Hyuga Hinata, Aburame Shino, and the jounin Yuuhi Kurenai!! Also, I'm a big fan of Nana Mizuki, the voice actress for Hinata, who is also an amazing and versatile singer among J-Pop artists. Other than that, if you want to learn more about me, look at my interests.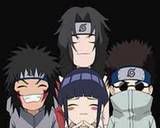 Friends
Viewing 12 of 90 friends
Journal
Naruto Haikus
Ooooh, a new entry! Enjoy!

In this journal, readers will find a weekly haiku (released on Wednesdays) regarding a character from the anime series, Naruto. I'm always open to suggestions, so feel free to send requests along with a comment or two.
Multimedia
Signature
Have You Seen Her?

Missing since 10/11/07

Come on now, Kishimoto-san! It's been over eight months now!