Ryod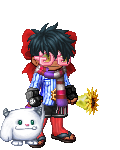 Last Login: 08/23/2015 6:13 pm
Registered: 11/06/2004
Gender: Animal
Location: Sweden
Equipped List
No items equipped.
Interests
Hobbies/Interests
Wish List
About
Not much to say about me but i enjoy rainy days, reading, eating, watching anime & playing rpg games. My favourite rpg's are Final Fantasy 7, kingdom hearts, Tales Of Symphonia & Grandia 2.

Favourite characters in each of these rpg's include:
Final Fantasy 7: Cloud, Yuffie, Sephiroth, Reno
Tales Of Symphonia: Lloyd, Kratos
Grandia 2: Ryudo, Tio, Melfice
Kingdom hearts: Sora, Riku, Squall

My favourite animes are:

Bleach
Naruto
Full Metal Alchemist
Dn Angel
Mezzo DSA
Journal
I have no idea.....
Big-a** journal with awesome stories that don't make sense....
Signature