RydiaChaCha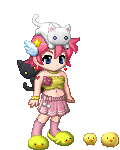 About



Hi I'm Rydia, I like cute things, chickies and cheesecake. I'm married irl so don't try to hit on me.

Despite what you may think, if I move your thread I don't hate you, I'm not targeting you and I will probably forget who you are 5 minutes later. Don't take things personally I'm just doing my job as a mod.



This is my emote shop, I make stupid emotes please order them and give me gold.










Avatar Art Galleries!
Over 2,000 Artworks
I like art a lot.

♥ Commisioned Art ♥ Gifts and Free Art ♥ Dolls ♥ Avatar Edits ♥ 1st Art Contest - 2004 ♥ 2nd Art Contest - 2006 ♥ 3rd Art Contest - 2007 ♥ 4th Art Contest - 2008 ♥ 5th Art Contest - 2010 ♥ Art from Other Contests ♥ My Crappy Doodles ♥ 100 Day Art Challenge - By Me ♥









Sprites edited from Trickster Online pet sprites by me.
Friends
Viewing 12 of 107 friends
Journal
RYDIAS JOURNAL
Multimedia
Signature



Check profile for Art Gallery, over 2,000 Avatar Arts!



My Request Thread, Draw Meeee!