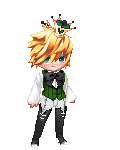 little-taeminnie

is now my partner-in-crime
as of february 18th, 2015
we're total nuts
i have an art shop right now!
come visit me!
clicky clicky
cmnt // view // add // pm // trade // am i still cute?

i'm super spoopy
my name is laurel and i'm a girl,
also, i'm seventeen and a senior in high school.
i like artsu and snk and acnl and many things.
tae and n are my beefs. i love them to death.