Custom
Rurutia O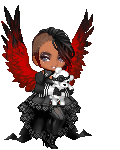 Gender: Female
Birthday: 01/15/1990
Equipped List
Interest Tags
Remind me to update my interests.
what the heck r up with this prices...now i have to wait
About
I love Anime. as you can see i have Final Fantasy X-2 Rikku as my background i also love the game kingdom heart both parts. i love any thing that has to do with final fantasy and kingdome hearts. i love the movie Final Fantasy 7 Advent children. and i love Dirge of Cerberus Final Fantasy the game. the anime shows i like to watch are Naruto and Bleach of coures and Mai-Hime (My-Hime) and D.N. Angel. well i think i should stop i could go one for ever about what i like i just love anime. and i love Blood and Trinity Blood. oh i said i was gonna stop. I JUST REALLY LOVE ANIME SO MUCH I WISH MY LIFE COULD BE AN ANIME SOMETIMES. Like Air Gear if you ever seen the show it a kind of sport they play i just sometimes wish it was me. so yeah i'm 19 and i live in Sacramento, California its cool out here. but i want to live some where new. you know i was gonna right something eles but i forgot mmaaaaannnn!!!!!! i hate when i forget stuff i get an headacke........ i just remembered i like to say to the people who never met me i'm very nice i don't really know how to be mean and i don't want to. i'm a very calm person so it takes a lot to make me mad. hahahahah ok good bye for now
Journal
My Lonely and Sad Life
hey i have a sad life i live a lie. i always hide my feelings but here i can kind of say what i feel because no one can see who i really am. i really do want to be happy and positive but every time i try it's like some one does something hurtful or s
Willy Cartier oh so Sexy!


Willy Cartier, My Husband