Ruko since 2010!
"I might not be the first, but I'll try to be the best!"
Taken so don't bother asking.
I'm a huge f*****t who likes weird things.
Don't take me seriously unless I say I'm serious.
Ask to know my main account if you want.
About the UTAUloid:
Name: 欲音ルコ - Yokune Ruko (Yoku Neru ko = Child sleep long)
Date of Human birth: Nov 17th 1989
Date of creation: Nov 17th 2008
Height: 6'5 or 197cm.
Weight: Kept secret.
Sex: Futanari - 90% male 10% female.
Species: ぴかちゅうの人→「日勝ゆう」に (rough translation = Pikachu Human.)
Droid number: was 03, changed to 65.
Droid type: Utauloid
Series: Vippaloid -Troll fake Vocaloid.
Character item: Coffee and Pillows.
Voicebanks: Has two voices; male and female (not counting the appends.)
Personality: Dere-dere -Romantic. Likes being petted and will act like a cat, loves sleeping and has a closet gambling habit. Getting on his bad side earns you invectives from him.
Phrase: 白米より麦飯だろコノヤロー "I like barley than rice, b*****d!"

Old Screenies~♫

Swapping my tie for Momo's bow
Being a manly man man!
Gliching with Aria? o.e;
Invasion of 1023 8b
Finding barrels and being scolded by jake-nii
Noob days catching bunnies~♥
Noob days with UTAUloid Sheena
Witnessing a random wedding with Papi Mitsu: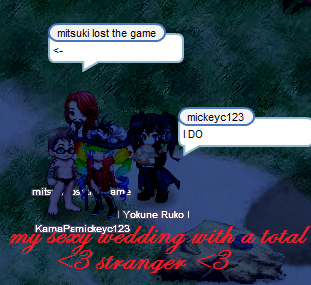 New Screenies! Dec 2013 -Present.


With Luka and a bunny!
Three main Vippers! Teto, Ritsu and Ruko!
Being a scary clown
Befriending a giant pickle!
Meeting a twin! /and a random Gumi behind us
UTAUloid Invasion of 1023 8b:


Arts by my friends~♪

By Aria/Momo/Sohpie~
By Robbie/Ted/Len~
By Fluff~
MMD pic by my awesome Twin: