Equipped List
Rowansmoon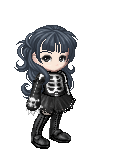 About
How the color does change in her eyes,
specters of light.
The sky I see in them clear.
Ocean waves lapping at the edges of time,
her eyes old and young.
Haunted by spirits in the wind,
her eyes whisper to me of dreams.



---- Love fairies, mermaids, witches, princesses, pretty much anything fairytale.
----Couldn't live without Disney movies, books & Trees!
----Waiting for gaia to create some better fairy wings.. and mermaid tails! < need more like sunset siren!

Wish List