About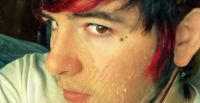 I'm 22 & That's my face.


The music you are listening to; is mine, an unfinished track.


Here is my music page below, I hope you enjoy~!
Producing name:

Cry Wolf


Find me on Soundcloud

I do have skype & facebook.
Ask me if you would like to add me.

I do have a career already.
of course music is my passion
I do need something to pay the bills.

I play video games as well.
PC mostly
oh and 3DS
want my friend code?
wurd

I do watch anime and rp
huge fairy tail fan.

Message me for:
whatever?
gaming?
anime?
rp?


Journal
That stuff
gtfo
funny stuff
Multimedia
Signature
D E A D
xxx
E N D