RosesFallingLikeRain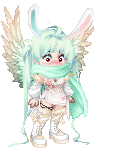 About
My name is Kia. I like to quote things, and come up with quotes on my own. I like quoting songs and things.
I'm sixteen years of age, and of the female sex.
I'm interested in a lot of things. Some are:
Steampunk
Drawing
Singing
Dancing
Listening to Music
Coding
Writing stories and poetry
Etc.
I'm really not that interesting.
I recently came up with a good quote.
"To tell people 'Love your neighbours as you love yourself' is only condemning many to be hated for one man's perceived imperfections of himself." Kia Yori
[youtube]http://www.youtube.com/watch?v=nTZA9fThXhg[/youtube]
Friends
Viewing 12 of 138 friends
Journal
Poems, and KiaKrap
Pretty much the majority of this journal will be poems, with maybe the occaisional 'My day was fine' Crap.
Multimedia
Signature
Questing Shop Items
This is my M E L O D Y
And it's just a R A V E R 'S F A N T A S Y
'Cause I know
If you're in L O V E with me
Tonight
-- W E 'R E -- R A V I N' -- T H R O U G H -- T H E -- N I G H T --