About
Hey guys. It's Rose. I guess I've saved this "little" box to say a "few" things about me.

I'm now sixteen years old! And I haven't gotten my permit yet.

:

( darn Asian parents wanting me to finish SATs first! Yeah, but no. I can finally drive but I'm going to chauffeured by my parents for the next few years. I'll probably make my best guy friend take me everywhere. He won't mind... right?

I love him. He's like the brother I never had. Mind you, I have a younger brother myself, but I'd rather have this guy. shhhhhhhhhh.

So, I do not wish to tell you my name because I'm pretty sure you'll butcher it up like every person who tried to pronounce it. Once had a teacher ever said it correctly and she was my favorite teacher, not because she had gotten my name, because she was just amazing. Anyways. I tend to get off topic if you haven't noticed a bit. It's not completely random like some people I know but yeah...

OHAY. What about family? My cousins Karricatlin, Watergirl244 and CallMeHope. Karricatlin is my twin, love, husband, and sister-wife. But CallMeHope is like that slooooow friend you have. So don't say anything too fast around her (;

How about some more interests on gaia? This will be short. I roleplay. I like to call myself semi-literate to literate, depending on how interested I would be in the roleplay itself. So I would say I post from two-five paragraphs on average and four to six and up for intro posts. Need real samples? huryago. So yeah, I'm advertising. But oh well.
.
Signature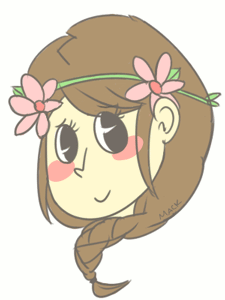 ★` commission schedule