For your Information...
I am 22 and I am obsessed with Harry Potter and Anime/Manga. I love to read anything that will keep me interested. I love music, rock mainly..but I am open minded and listen to almost anything ( though I don't really care for county). If you want to know more, just ask...I like talking to people, I don't like random friend request ( we at least have to have a conversation of some sort ). If you want to know more about me, PM me.

I'm Always editing my profile....

BUT...I am kinda on an on/off Hiatus so I may not change it much..if at all...
Moi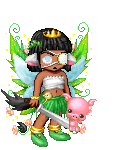 Last Login: 05/24/2011 3:49 am
Registered: 01/10/2004
Gender: Female
Location: Lame a** Sacramento
Birthday: 05/05/1988
Occupation: Radio Active Toaster, Student, zombie( part time )