ROSE FLIP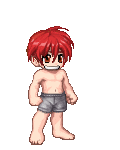 Last Login: 12/19/2009 11:01 am
Registered: 09/04/2007
Gender: Male
Birthday: 06/23/1992
Occupation: student
Equipped List
No items equipped.
Interest Tags
Favorite Movies/Anime
Favorite TV Shows
Favorite Reads
Favorite Music/Bands
Hobbies/Interests
Wish List
About
well im 5 foot 11 almost 6ft umm i like rock,i like peoms,i have brown hair,brown eyes,umm i am mexican,american,italian,french,irish,and german.i run track and crosscountry.i like rugbee.i like to hang out with my friends and i live in west sacremento in califorinia...i was born in las vegas...thats just about it...so peace out!!!
Journal
my journal
ummmmmm this will probably just be for my poems