RojaZorra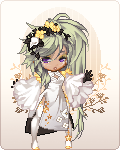 Details
Last Login

01/21/2017 1:31 am

Member Since

03/06/2005
Occupation

Struggling Artist

Gender

Female

Birthday

06/10/1987

Website
---
Interests
Favorite Movies/Anime
Favorite TV Shows
Favorite Reads
Favorite Music/Bands
Hobbies/Interests
About

My Deviant Art
- I draw avi art, click to see samples of my work.
St. Loosha OC Academy on Facebook!
- Message the page if you'd like to join this Rp.
Skype - Mazzy-Roja (if you add me or message me, please let me know youre from Gaia!)
Journal
Roja's Collection of (Random) Things
This journal is just a big mix of my thoughts as they happen.. on a irregular basis.
Signature
I do avi art for gold or items!
Examples of my work:
My DeviantArt

Questing

Too many things on my wishlist..