Riyara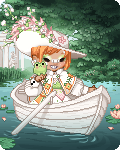 Last Login: 07/31/2014 3:42 pm
Registered: 06/11/2005
Gender: Female
Birthday: 03/24
Equipped
Interest Tags
Favorite Movies/Anime
Favorite TV Shows
Favorite Reads
Favorite Music/Bands
Hobbies/Interests
About
Lately I've been really into knitting - especially smallish squishy things and bacon scarves. I also draw and write. I usually write things that fit into the urban fantasy genre. I'm great at starting things and not finishing them, so I have a ton of OCs. If anyone's interested in talking about characters/characterization or trading art, I'm usually up for it.

I've been reading a lot recently - most notably the Sandman series, Ultimate Spider-Man, Band of Brothers, and the Monster Blood Tattoo series - since I decided to reread some books that I read when I was younger. Slowly but surely I'm making my way through more Marvel comic books with characters that I like. I'm particularly fond of Miles Morales and Wolverine.

I like to watch terrible movies and snark at them with people, so I'm open to suggestions of terrible movies.

My Aquarium