Spider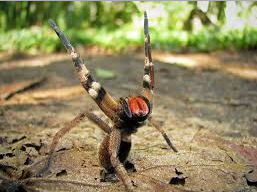 When people look at you, they get mixed feelings. They honestly don't know how to feel about you. To them, you are the world's most frightening creature; but deep down, you're the world's biggest snuggle buddy. You're widely misunderstood as you try your hardest to keep nightmares
away
from people, yet people see you as the "source" of nightmares. No matter what you do, you just somehow end up on the other end of the rope and become the devil's advocate. You, however, aren't one that is easily broken. You can be stepped on, sprayed at, and screamed at, but your spirit will never be broken. Sure you're a bit nosy at times and you sometimes end up popping people's personal bubbles, but you don't mean to; you just wanted to say hi! You're very friendly, but one thing inside you never changes: you are too afraid of others. In fact, you're more scared of them then they're scared of you. It's a lose-lose circle all around! Build up that confidence, and soon you'll be the perfect best friend: equipped with venom, incredible skills in agility, eye-sight, and stealth, and you're the definition of the world's most perfected body guard!
People just...need some more time to understand you, so be sure to speak up more!
I just decided to do this for fun okay? I didn't copy and paste it from anywhere.