Razor - King of Blades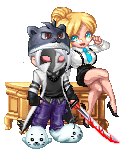 Last Login: 12/01/2015 4:25 pm
Registered: 03/30/2005
Gender: Male
Location: Midwest, USA
Birthday: 10/26/1985
Occupation: Privateer
Equipped List
Interests
Favorite Movies/Anime
Favorite TV Shows
Favorite Reads
Favorite Music/Bands
Hobbies/Interests
Wish List
My Aquarium
About
So here recently, some of my first friends on this site returned from hiatus, or limbo, or chasing hookers in regards to one of them....and with their return, I decided to show a bit more diligence with this site.

I began my tenure on Gaia back in March of 2005, I was barely 19 at the time and just starting my journey through the interwebs. I stumbled across a small shop in the exchange ran by a British kid named Sgtseeker ( the one with the affinity for hookers and stupidity). Over the course of my time in that shop, I would meet alot of different people.....

When Sarge disappeared on us all, his shop fell into limbo until locked by an Admin known as Link....which would cause us to move from thread to thread and finally ending with me and some of my new friends starting up our own charity.... The Forsaken Dreams Charity would envelope close to 2 years or so of my time until we finally ran out of funds and newcomers....but it gave birth to a design of mine using zOMG at the time in the form of a RNG-based game where people would win prizes for posting on certain pages.

Sadly, this chapter of my Gaia life would come to an end and I would be left to wander aimlessly until Sarge returned to reopen his shop causing us all to come together once again. He then again pulled his disappearing act leaving a gap and causing Gaia to stagnate for a few of us, myself included.... My time after this and once another friend left for the last few years, I would only show for events or to check on things every so often....

As I said, Sgtseeker and another friend named Sparkling Diamonds recently returned and with them, the idea formed to start a quest thread for the three of us....and for lack of a better name, somehow we came up with Threeway Redemption....don't ask, I don't have an explanation.

Now we run our Quest Thread together and work towards our goals, mine being random items I like, armor or animalistic items...Spark's being about half of the current item list for the site and Sarge still aiming to collect an Angelic Halo which has eluded him for nearly a decade.

I am now 27, and will be 28 this fall... I run a gaming page over on Facebook and have plans to attend Blizzcon this November with one of my fellow Admins. I also have a DeviantArt page where I post random scripts/poems/stories I write just so I don't lost them with my writer's block which only grants me slight openings to create new things and then stalls everything else.

I have plans once i'm on my own and out of this rut to start my own morning radio show from home, hopefully I can put together a daily regiment that people can connect with and get into.....

So, with all this said, here is to the future, whatever it may bring...and to the hopes that Sarge quits picking up hookers and catching The Clap.


Journal
Razor19's Journal
Oh My God, the litarary world is after me again. GAH!!!!!!!!!!!!!!!!!!!! This will be very random by the way so prepare to wonder if i am crazy or just a really bored individual
Signature