About
HAIII THERE KIDDOS
The names Leah
Use it 'ight?
Right the basics:


I live in Ireland and yes,yes children we do have leprechauns
I'm a girl

I dress like a blind person,but I don't care
Drop Dead! clothes are my absolute favourite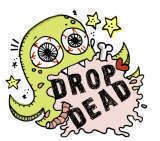 I spell kinda s**t sometimes because I like to spell phonetically
Don't take most of the stuff I post seriously because well,lets face it,Its only the internet.
I say amazingly weird things sometimes like
''OMGL THE UMBRELLA HAS A NINE INCH KNOB''
Get used to it or GTFO


Talk to me through comments or PM
whatever.
I'm pretty nice right?
Slàn then
[X]
[O]
[X]
[X]
[O]
[X]
[url=http://i274.photobucket.com/albums/jj243/wreckflat/my face/DSC01393.jpg][O][/url]
[X]
[O]
Friends
Viewing 12 of 39 friends
Journal
Epical!
Tis Epical!
Multimedia
Signature
GUITAR OF ANGELLUS PLEASE?
Bread orgy