Raven_the_BakaNeko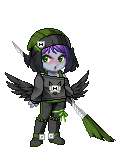 About
I'm Raven!
I like to draw, read, play games, watch anime, and I cosplay sometimes. I have 2 jobs so that makes it hard to do that stuff sometimes.

I'm happy, friendly, and outgoing! I love randomness!
I have a cat named Tuna, and I'm asexual.
That's about it I think! XD
Friends
Viewing 12 of 51 friends
Multimedia
Signature

If you have any unwanted Jellyfish in need of a good home I will gladly take them off your hands!



Jellies: 30/33