Rationing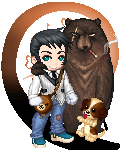 Location: TN
Occupation: Student, Store Owner
Equipped List
Interest Tags
Favorite Movies/Anime
Favorite TV Shows
Favorite Reads
Favorite Music/Bands
Hobbies/Interests
About
Hey everyone! I'm a college kid and business owner, used to come on here all the time as a kid so I still log on sometimes. Sorry if my activity's bad for everyone I'm tying up loose ends with.

Live in Nashville right now and for work I flip houses and have a service that provides IT catering to all the local newspapers. Looking to do something more in the future, but hey if any of you by some wild, unforeseen chance want to buy a house in TN, hit me up!

Don't get on too often now adays but if you want to start something, I'm all ears.

Right now interests are gay rights (tell me if you're doing any work for it IRL or are part of a GSA that does service, I make donations all the time!), hockey, cars, and soccer. Gaia Chelsea FC fanclub please!

Skype is dvkome and feel free to randomly drop in for some reason.
Forums
Posts per Day: 0.92
Total Posts: 1200