Journal
Ranu's ramblings
A collection of randomness.
Wish List
Ranusha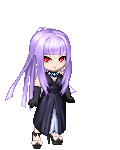 Last Login: 10/04/2015 5:36 am
Registered: 03/22/2005
Gender: Female
Birthday: 03/25
Equipped List
Interests
Hobbies/Interests
About
Name: Ranusha Iun Solaris

Age: Looks 14 to 16, but refuses to tell her real age for obvious reasons.

Relatives: No biological family. The only "family" she has consists of extremely close friends.

Occupation: Wanderer

Fighting methods: Ranged magic attacks(Mostly consisting of fire, lightning, and plasma) and booby traps.

Height: 4'11"

Quirks: Will occasionally mumble to herself in a dead language, always carries a bag of homemade cookies, has a habit of taking things from you such as your hat(and the occaisonal vehicle) but she gives the item back.

Bio: Ranusha is a phoenix that takes the form of a peculiar young lady who currently wanders throughout the world seeking knowledge and "a way to return home". Because of certain vulnerabilities and possible errors in her future searches, she chooses to keep her origins and true form vague to make sure that others don't become suspicious.

As a former member of a now disbanded magician's council, she is indeed powerful yet seems to have her head in either the clouds or on the ground. You may see her from time to time playing with a plushie, playing a handheld game, or reading a book. Go ahead and introduce yourself to her, but try not to cause her any trouble.
Signature