Rainbow Jizzer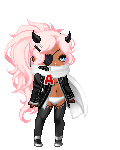 Registered: 03/14/2009
Gender: Female
Birthday: 11/28
About
What the ******** was wrong with me? o.o I had wrote the most stupidest about me when i was thirteen. xD

Hi, i'm Tyra. Though i prefer to be called Elli :3 Because that's my middle name. Unless we're awesome together and we have nicknames for each other, otherwise call me Elli or Rainbow. I'm a free-spirited weirdo. So for the hell of time and space, here five fun facts about me..

-I ♥ cats
-Rainbow will always stay in my name
-I write really good
-I like the color red
-I come from an awkwardly large family

I don't like to give out my age as much but heres a bit more info physically. I'm 5'3-5'3 1/2. I weigh a sexy ammount ;D
:3 I am in high school. 1* years old :3 My birthday is on the 28th of November!
Oh and i'm a mixed chick. Obviously black and etc. :3 Also im bisexual ;o So nothing offends me FYI!

Anything else? Message me, add me. I'm

mellow

******** INSANE.




Forums
Posts per Day: 1.34
Total Posts: 2310