Radio Hysteria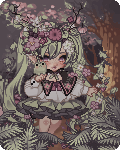 Details
Member Since

02/11/2009
---
Interests
About
I'm a thrill seeker. I love roller coasters, blowing bubbles, laying in the grass, watching the stars, blowing fuzzy dandelions, getting tattoos, singing super loud, taking pictures of everyone and everything, catching fireflies, watching fireworks, playing soccer, dancing like a crazy fool, playing tennis, shopping, sitting around a bonfire, smelling like smoke the next day, trying on new clothes, and spontaneous road trips. I also have somewhat unhealthy obsessions with Shingeki no Kyojin (Attack on Titan), Yu-Gi-Oh!, Sword Art Online and Tokio Hotel. It's nbd though. xD

Message me if you wanna talk. I love making new friends. <3

PS: Yes, I did make this profile!





Journal
Random thoughts Ami has...
Multimedia
Signature
♥

Kayla | 25 | F
Tumblr

Questing wishlist items!

♥

God, grant me the serenity to
accept the things I cannot change;
courage to change the things I can;
and wisdom to know the difference.

♥