Queen_Succubus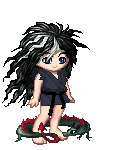 Last Login: 11/11/2014 3:51 pm
Registered: 11/22/2006
Gender: Female
Location: Somewhere.... wait... where am i? o.o;
Birthday: 05/08/1993
Interest Tags
Favorite Movies/Anime
Favorite TV Shows
Wish List
About
Welcome to my profile, my name is....none of your business. You can call me Monoke, though. I am a writer, or I like to think of myself as one. If you would like to read one of my stories, here is the link... http://www.fanfiction.net/s/4057873/1/Dragons_and_Vampires_and_Wizards_Oh_My

Thank you for visiting my profile. I hope you like it.
Journal
alchemy research log
this is my research log, and where i put random things...IM NOT CRAZY! YOU ARE!
Signature