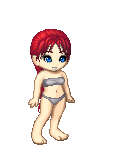 Gender: Female
Birthday: 09/03
Equipped List
No items equipped.
Interest Tags
Favorite Movies/Anime
Favorite TV Shows
Favorite Reads
Favorite Music/Bands
Hobbies/Interests
Wish List
About
Hello, my name is Lily, and I'm 19 years old.

I'm a small time gamer, I play video games for fun, though I can get a little competitive. Um, my favorite video games are; Pokemon (pretty much the whole series), Psychonauts, Okami, The entire Legend Of Zelda Series, Yu-Gi-Oh The Eternal Duelist Soul, Kid Icarus Uprising, Kingdom Hearts 1 & 2, Spirit Camera The Cursed Memoir, Mario Kart, Sphinx and the Cursed Mummy, Epic Mickey, Fruit Ninja, & Nightmare Before Christmas.

I'm also a fan of animation, or 'cartoons' at my family calls it. I like Japanese anime, American cartoons, and animated movies.

The majority of my favorites will be in the 'interests' tabs. :3

Current Favorite Movie: Rise Of The Guardians

Movies I haven't seen but would like to: Treasure Planet, A Monster In Paris, Enchanted, Frankenweenie, Despicable Me.
My Aquarium
Signature
Those who can laugh without cause have either found the true meaning of happiness or have gone stark raving mad.

If you can't convince 'em, confuse 'em.

People think I'm crazy, but really I'm just bored.

I'm a firm believer that short, infrequent, transitory moments of insanity are good for the soul.

Have some candy!