The Usual.
about me.... hmmmmmm... what is there to say?
I LIKE CLUTTERED AVIS THAT HAVE NO POINT TO THEM <3
well my name is Jenifer, but call me Jen unless you are mad at me call me Jenifer.
i'm 20 years old right now. i'm very talkative, active, random, and full of coolness!
i am a very good listener, and i got a shoulder for anyone to cry on. i do have aim too, its the same as my gaia username.
i'm also sarcastic and creative. i always have something to say. but if i dont have anything to say, i'll put "lol".
i love all of my friends. and i dislike people who ask for donations or send me chainletters. i delete them or i send a mean remark back.
At this point, when am i not on a quest... I will donate. but i chose who to donate too.
I love art work and I love hugs.... what else is better than a good hug?
Right now, I'm currently in college. Its pretty cool, but a b***h at the same time. My best friend Amber got me to join this site back in 2004/05 when we were stuck together in art. Some crazy crap happened in that art room that stays in that art room. lol. Btw Amber, you are by best friend and everything and you have helped me through a lot. I thank you and owe you so much. But if you decide to become a Go-go dancer, you are on your own.... haha.
i can't think of anything else, but if you want to know more pm me and send a friend request...

Fairy Color: Cyan
Name:
Suki-suki
currently questing: OMG! I'M GOING TO DIE ON THIS QUEST!

A KIKI! A DEMONIC PENDANT!!

BOUGHT

GOLDEN LAURELS!

BOUGHT!

newest project: Currently Questing for:


~ CN Scarf




~ Fremere's Guard

-WANTING


~ Purple Body Dye




~Goti Clips

~ Angelic Camisole ~ Mythrill Halo ~ Golden Laurels

BOUGHT

Nice Style For Work

DONATED

My Entire Quest Bar:
Current Quest Avi:
Total Value: 2,430,633 Gold
After Exclusions: 1,656,974 Gold
[Item Information]
Item List:
Demonic Anklets
Street Fighter IV Megapack
Wingding (phase one)
Coal Tavern Wench's Bustier
Dark Halo
CURRENTLY QUESTING!
Alruna's Rose 4th Gen
Red Tiger-print Speedies Bottom
Black Leather Belt
Nartian Rock
Chyaku Norisu Scarf
Nice Style For Work
Oisin's Blessing
Demonic Pendant
Donators
Otlan
SenkoAmber
xXEmilyHatakeXx <3
The Luff Muffin
Rishiki
darkmageofskittles
Rose_spells <3
Nvus2007
AB- emerald seed, Nice Style for Work
New_World_Order_Is_Coming
Omot
Charlie Chambliss (aka 410) <3
SenkoAmber <3
Triantha <3
Silver Ace Revolver <3
<3 means donated more than once, or a large donation.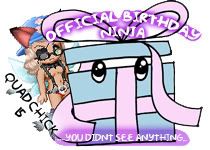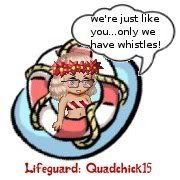 myspace page: www.myspace.com/jeni_jen_jen
Best AIM Chat With Kelsi Ever:
Quadchik15 (4:51:27 PM): and i told aj that i'm going to send him a blow up doll for his birthday named gina. haha
yazuindazu (4:51:43 PM): Gina?
yazuindazu (4:51:47 PM): Wait.
yazuindazu (4:51:58 PM): Omg...I've hung around you FAR too long
Quadchik15 (4:52:09 PM): haha. that was the first name to pop in my mind. haha
yazuindazu (4:52:50 PM): Jen, just the fact that the name Gina was the strangest part of that sentence to me worries me
Quadchik15 (4:53:08 PM): haha, that's awesome.
Quadchik15 (4:54:52 PM): i love that sentence. haha

Another Random Text Conversation With Kelsi:
When pure boredom sets in. This is what happens... In progress chat.
Kels: Dx this is quite obnoxious. Lets go music!
Me: Go music go!
Kels: Its not going.
Me: Run faster music run faster!
Kels: Stupid modulations.
Me: Yeah. Pretty much. They never do anything.
Kels: Lol.
Me: They never run either.
Kels: Lol you weirdo.
Me: They're just fat and lazy. And one time they tried to eat my toes! :O
Kels: A modulation tried to eat your toes? O.o
Me: Yeah. Or it was the demon cat in the form of a modulation.
Kels: They're all demon cat forms. Lol
Me: I know! I can never tell the difference!
Kels: lol stupid toe eating modulations.
Me: I know. And they totally aren't kickable either...
Kels: Wanna bet? ><