About
Hello! My name is Raymond. Call me Pyro.
Age: 15 Years
Birthday: November, 7th
I am a cracker
Lives: In the USA
Astrological sign: Scorpio
Pets: A cat in a frog.. don't question me.
Religion: Agnostic
Please do not question my ways.
Anywho, I may seem quite shy when talking to you for the first time, but I will open up if you socialize with me enough.
Total gaian worth? I sadly dont know... all I know is that its like... something billion.. or something.

PyroMonstah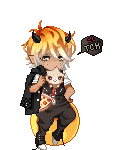 Last Login: 07/12/2016 6:00 pm
Registered: 08/20/2011
Gender: Female
Birthday: 11/07