Journal
Porpoise with a Purpose
Driven by wanderlust. Anchored by love.
Interest Tags
Favorite Movies/Anime
Favorite TV Shows
Hobbies/Interests
My Aquarium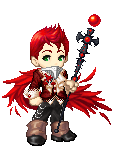 Birthday: 08/23
About
A diplomatic chameleon with trust and abandonment issues.

Sensitive. Volatile. Romantic.
Signature



"No matter how hard the circumstances, the strength of a heart that believes in the future is what makes the impossible possible. The power of faith becomes courage."
My Playlist
You currently have zero playlists!
Forums
Posts per Day: 0.11
Total Posts: 135