About
Hello, my name is Nathan!~
However, most people on Gaia refer to me as Pusheh.
I'm 19 years old, and my birthday is Dec. 12th
Blonde/Blue Eyed
Argentinian/Russian.
I lived in California my whole life.
My goal is to become an artist for Gaia before it shuts down!!
Some of my favorite musicians consist of Zella Day Tove Lo, Lorde, Charli XCX, Ellie Goulding and Lana Del Rey... lmao all female. /sad
Lastly, my

favorite

animal is a fox. In my previous life, I was either a stale potato chip or a fox.

Pusheh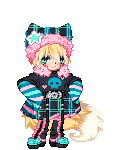 Birthday: 12/12
Items I'm looking to buy
Friends!
Shoo Kiki
Lexie Jada Jenna Luna
Emmy Mako Sinny
Linshony Dannikun
Jamies MrAsstronauntskek