Purplesnoopy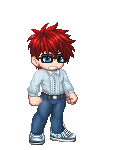 Last Login: 01/21/2017 9:21 am
Gender: Male
Birthday: 07/01
Equipped List
Interest Tags
Favorite Movies/Anime
Favorite TV Shows
Favorite Reads
Hobbies/Interests
Wish List
About
I've been here since the start
Got fire in my heart
There's nothing you can do to make me go
I'll bring the hope and light
For the future I'll fight
So please sit back
Hope you enjoy the show!

When I first came to Gaia
(Ah! I remember well!)
I chose a name that was unique and had no parallel.
No numbers wanted I, no 1 or 2 or 3
And so I chose this name -- Purplesnoopy, as you see.

Monkey/Cancer and Gaian.
Watch me play!

Journal
Purplesnoopy's Journal
My life and dreams, on Earth and in Gaia...
Signature

"Physical distance is temporary. It's the distance between hearts that matters."-ChainlinkX
"We are the music makers, and we are the dreamers of dreams."- Willy Wonka (Gene Wilder)
Let us fight with love and courage!