purplegnomes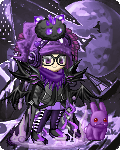 Registered: 10/11/2008
Birthday: 04/30
Stuff I'm wearing
When I wish upon a star...
Stuff I like
Favorite Movies/Anime
Favorite TV Shows
Favorite Reads
Favorite Music/Bands
Hobbies/Interests
Guilds
purplegnomes's Journal
Purple Log
My journal is purple.
This Epic Art brought to you by:
S.a.b.r.i.n.a
About
Hi, what's up?

Stuff about me:
Name: purplegnomes

My favorite color is PURPLE!!

I LOVE MUSIC: Good or Bad, I always want to listen to music. It distracts me from work but it somehow relates to me whenever I listen to it and it solves my problems. With that said:
I love ROCK music: because it is epic and awesome.

I LOVE drawing: mostly cartoons (people have said I draw chibi-like stuff)

I'm slightly quieter in real life (basically my fingers are more talkative than I am, haha)-I'm not antisocial or anything, just not overly boisterous and talkative like most people.

I am a neat freak, I will not deny that. I even have things color-coded in my inventory (Because believe it or not, it's not all purple). XD

I recently graduated college with my Creative Writing degree, and I graduated from another college with a degree in visual arts, too!

I love reading: I really like the Odd Thomas series, and I've also read the entire Hunger Games trilogy- so I won't get mad at spoilers, lol.

My favorite music artist of all time is David Cook.

I have a Nintendo Wii, N64, Game Cube, Game Boy Color, Advance, SP, and a 3DS. So yeah, I'm a Nintendo nerd.

I love Disney. Mickey Mouse is my favorite cartoon character.
Also, I'm obsessed with Baymax right now.

Other things I like: Autumn, Spring, Super Smash Bros., Mario Party, Animal Crossing, tacos, optimism, kindness, open-minded people, and blizzards (the ice cream)

Things I dislike: Summer, Winter, meanies, rudeness, impatience, ignorant people, soda, overly-explicit stuff, and blizzards (not the ice cream)

So anyway, I hope you like my profile. Thank you for reading!
This is my Signature-painting the forums purple!