About

-

I'm 12

I go to cascade middle skool

I lik Dr.Pepper and Chapstick XDDD


I'm a band geek :B I play the flute and bass guitar
I live in Seattle,Washington

I'm a girl and my name is Jasmine

I like penguins

me friends call me idiot lol



bands/singers I like to listen to:
Green Day

Avenue Q

Jesse McCartney

fall out boy

all american rejects

Neyo

AFI

panic! at the disco

The Red Jumpsuit Apparatus

cartel

Relient K

the pink spiders

Hawthorne Heights

people who have donated:
Winged_Distortion -Pixie!

Donatez to me andd get yer name on me profile and if you wantz in Me Sig so donate PLZ ;D

1) What side of the heart do you draw first?
right

2) Can you dive without plugging your nose?
yeah

3) What color is your wall?
wood

4) What is your favorite number?
7

5) Do you always read those pointless things they say on adult swim?
always

6) What shoe do you put on first?
i guess the right


7) What are you listening to right now?
tv



How many chairs at the dining room table?
4 or 5

9) Do you like video games?
yes

10) What's your favorite gaming system?
ds

11) Do you know all the words to the Fresh Prince Theme Song?
yea haha

12) Did you go to summer camp?
yes

13) coke or pepsi?
pepsi

14) Do you like to read?
sometimes

15) What color are your sunglasses?
blue


16) Do you know how to use some words correctly, but not know what they mean? yes

17) Do you like to sleep?
yah

1

Do you hate commercials?
no

19) Do you like rap?
yea

20) Do you want a bright yellow '06 mustang?
no

21) What's something you've always wanted?
Uhh good parents

22) Do you have hairy legs?
hell no

23) How many fillings do you have?
0

24) Would you rather swim in the ocean or a lake?
ocean

25) Do you wear a lot of black?
yea

26) Describe your hair?
dark brown

27) Do you like drama?
yeah

2

Are you an adult?
no

29) Do you think you have a good handle on spelling?
Yes

30) Ever won a spelling bee?
no

31) Are you a television addict?
nope

32) Do you enjoy spending time with your mother?
No

33) Are you a sugar freak?
Yes

34) Do you like orange juice?
yea i like o.j.!

35) What sign are you?
Cancer

36) Where do you wish you were right now?
mall





My Dream Avi:



*=have it

1.Staff of the angels ?g
2.Winged Anklets ?g
3.Angelic Halo ?g
4.Guitar of Angellus Wing ?g
5.Felicia Gloves 600g*
6.Blue Ska Shoes 1090g *
7.#FFFFFF Complex Shirt 6131g
8.Blonde Terra Twist hair do 2670g*
9.Cool Punk starter pants 2g*
10.Kiki kitty Plushie ?g
11.Leather Collar with cross ?g





Thanks Captain Yuko for making a cheaper version





Thanks Shoylue.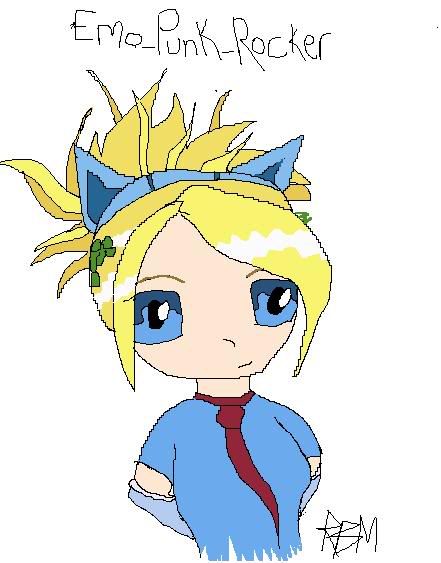 Thanks RiverBloodMoon

-

IMG]http://i91.photobucket.com/albums/k305/CrazzyxGood/aimpros30.png[/IMG]
Friends
Viewing 12 of 77 friends
Journal
Saint Jasmine
With angel face and a taste for suicidal.

Me,school,music,life,love from my point of view.
Multimedia