My name's Roxie. you may also call me Punk, Punky, PB, or Moldy's favorite: PB&J.
I just turned 24 on the 25th of October.
Yay!
First thing's first.
I like to think I have a deep loving, friendly, fun personality.
but I am also overemotional, strange and overprotective.
I chose my username the way it is because I love the word Bravery. It means everything to me. Bravery though was taken, so I became Punk Bravery the one and only.
let's see, uh, If you wanna get to know me, PM me, send me a friend request, etc. I like to meet people, though I am tight with my friends.
I like to have close long lasting friendships. <3
I am a writer and am imaginative-I have my own universe.
I don't like being rude about my personal life, but I will say I am happily engaged to my 8 year plus boyfriend, Johnathan. AKA suicide_king135 on here and no he is not suicidal or anything like that. suicide king is also a name for the king of hearts. Look that up, bro.
I hope we will all get along! It is nice of you to read all of this. I really appreciate it. Thanks!
I look like this
*note*photos may be large. if so let me know i will resize
: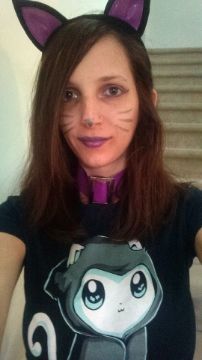 ^_^
Art of me: