punipunipon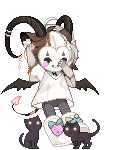 Birthday: 01/13
About

Hello my name is punipunipon! I love pixels and avatar based sites! You can usually find me browsing the art forums here or hanging out in art shops! I love cute things and kitties. I also love to draw >3>;
I am usually playing Tera. My username is punipunipon there. I love MMO's ;w;
Feel free to message me!


puni


Wish List