PsychoValentine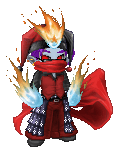 Last Login: 12/01/2015 8:06 pm
Registered: 05/16/2007
Gender: Male
yez....its.....a journal
uhh i dunno
Equipped List
Interest Tags
Remind me to update my interests.
Wish List
About
yeaah...so wassup names Psycho...full name Psycho V for Vallentine, General of my clan... hehe ...psychotics

like anime, killing, bewing crazy, acting stupid, manipulate weakminded people >=) he he he.... and so on and so on... dislike? not that much...just dislike stuff that anoy me...