Psychosocial Chick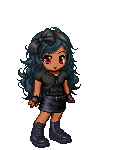 Birthday: 08/31
my interests and stuff...
Favorite Movies/Anime
Favorite TV Shows
Favorite Reads
Favorite Music/Bands
Hobbies/Interests
...d.o.t.t.e.d..l.i.n.e...
I am not afraid to keep on living, I am not afraid to walk this world alone. Honey if you stay, I'll be forgiven. Nothing you can say can stop me going home.
~Famous Last Words by My Chemical Romance
About Me
My name is Riss and I am a music lover.
I enjoy listening to most sorts of music but if you make me listen to anything techno I will punch you in the face, I give you my word

I play the guitar myself, although I ain't very good

I don't like talking about myself that much so I'll stop there.
Forums
Posts per Day: 0.02
Total Posts: 55
My Playlist
You currently have zero playlists!
Equipped List