"The girl is Psycho, this is true,
But I bet you never knew,
That she's fun and kind of flirty,
and when the sun goes down she's perky.
She may have Ice inside her veins,
But she's happy just the same.
This is not a work of fiction,
Just a little contradiction.
It's ironic that she's nice,
With a name like Psycho Ice."
Poem made by a wonderful anon~

Birthdate: 01 / 10
Age: 20
Country: Ohio, U.S.
Height: 5'8"
I'm a pretty cool night owl. Practically a giant, dorky child with no life. I love to talk and make new friends, but I am extremely lazy and that can get in the way.
I'm very open minded and love to tease/flirt. Don't take it personally. I just play around with you. I also steer away from boring people and drama. Just no pls. I'm also really bad at comfort and affection.
Also, yaoi is my life. I ship any and everything. One day I'll draw it and it will be glorious. GLORIOUS.
I roleplay every blue moon, play video games, and watch anime every now and then. Ask me about other things. I'm online almost all the time.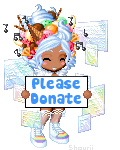 I used to be
Psychotic Scarlet
till that account was recently banned in January.
If you want to view my comments. Click
this
.
If you want to add a comment. Click
this
.