Prinzack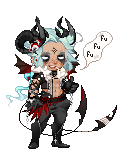 Details
Gender

Male

Birthday

11/12
---
Interests
Favorite Movies/Anime
Favorite Music/Bands
Hobbies/Interests
About

» Current Song: «

"Flower" -- Junhyung

- Add - PM - Trade -

Hey there, my name is Kayla.
You can call me Prinz.

I'm female, 'cause my father's sperm said so.
Don't be fooled by the avi.

I'm Asian, of the Chinese descent.
As such, I love Asian music and dramas.

I'm a huge fan of One Piece, Hannibal, and Mass Effect.
My buddies tend to call me a movie junkie too.

I enjoy art, music, RPs, and video games.
A lot of my time is spent on these things.

If you want art, you'll have to find my bribe shop.
Or go to my devART journal for RL rates.


- devART - tumblr -
Journal
Story of My Life
Multimedia