About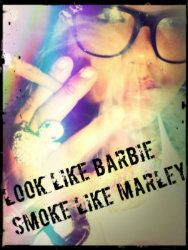 My Name Is
Tia

I'm
22
and I am a Art major

I'm
California~Grown
!!!

I love

...

Cheafin' on D_A_N_K-a**-Marijuana

Partying-all-Night...Rage-on-Bruh

!!!
HELLO_KITTY!!!


Being on Line:
Facebook@mizztia03@yahoo.com, Twitter@This_bitch_tia,Gaia@Pot Headed Pixii
Art... Drawing, Painting, Muraling, Charcoal, Pastels... lots of other media!!!

ADVENTURE TIME!!!... lot's of other cartoons

Music:
Mac Miller
...Paramore...
Gym Class Heros
... Bob Marley....Adele...T-Swizzle... alot more!!!
Love me or Hate me your still thinking about me!!!
#DDD'S on THEESE lmfao

My Dream Avi's
Donations Are Appreciated!!!


Friends
Viewing 12 of 93 friends
Journal
Bloggy Poems
So these are just poems I write once in a while maybe a few blogs entry's.
Signature
I just want a

Guy

to

Smoke Weed

&

Play Video Games

With