About
HEY ALL YOU PEOPLE.
HEY ALL YOU PEOPLE
HEY ALL YOU PEOPLE WON'T YOU LISTEN TO ME.
I JUST HAD A SANDWICH.
NO ORDINARY SANDWICH.
A SANDWICH MADE WITH JELLY FISH JELEEEE
anyways, hi.
.I'm police bocks. I like long walks on the beach and
poking dead things with a stick. I tend to do a lot of rp'ing.
getting my hands full, and cooking.
moving to scotland to be with my gay lover soon.
i really want some over easy eggs..
that's about it.
OH.
GENDER EQUALITY.
LGBTQ.
idk. JUST LIVE LIFE MAN.
it's the only one you've got unless
y'know you believe in reincarnation
or jesus.
Signature
Genderfluid and proud. Hail satan, drink coffee.
i really like friends and roleplays.
also chocolate and pretzels.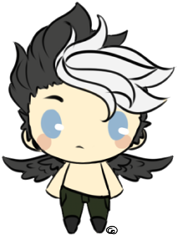 avi art by : Little Varvar