Poison Destiny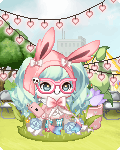 Last Login: 06/03/2013 6:39 am
Registered: 04/03/2007
Gender: Female
Location: Dublin, Ireland
Equipped List
Interest Tags
Favorite Movies/Anime
Favorite TV Shows
Favorite Reads
Favorite Music/Bands
Hobbies/Interests
Wish List
About
Hi, welcome to my page. My name is Kathy and my main interests are drawing, writing literature and poetry. I'm in the middle of writing my science fiction novel and it's slowly but surely getting there. As for my personality... At times I can be quiet, others I can be loud and eccentric. The majority of the time I'm extremely hyper, no matter how far away I stay from the sugar. I'm an extremely random person and at times I am rather unpredictable. If you want to get to know me it'd be a good idea for you to time it right :L At the moment I'm attending UCD, unofficially dropped out of an arts omnibus course due to it being too academic. Right, heart's mended, the smile's been slapped back on my face and I've made some great buddies... Kathy's back and stronger than ever. You might momentarily knock me down, but that ain't stopping me from pouncing back up again!

Walks upon: Irish soil
Combs: dark brown hair
Glares through: color changing eyes (blue, green, gray)
Dances in: Size 7 shoes
Eaten: 19 birthday cakes
Horoscope: Leo! RAWR!! :B
Single or taken? Single for the moment.

Me loves: my friends, glow sticks, mechanical pencils, BUTTER!!, the color crimson, melted cheese, garlic bread, webcam, drawing, reading, candles, fizzy sweets, facial hair, human upholstery.
Me hates: Hypocrites, liars, art thieves, scangers, jazz, violence, persistent people. Want to know even more? Leave a comment. Bubbly bye xx

GODDOMMOT FRONK.
Signature
EVERYTIME I DRAW A ART SOMETHING HAPPENS.
http://lady-blackdove.deviantart.com/